One of the largest and most populous cities in the world, Beijing is a city which awes the visitor. As the capital of China it is the political, cultural and commercial hub of the country.  This is a metropolis with a long history of being the political centre of China for centuries. When in Beijing you can't miss the majestic palaces, temples and shrines, and huge stone walls and gates that exhibit the proud history and traditions of the Chinese people. The Forbidden City in Beijing where the emperors of Ming and Qing dynasties resided is a fine example of the majestic heritage that belongs to the city.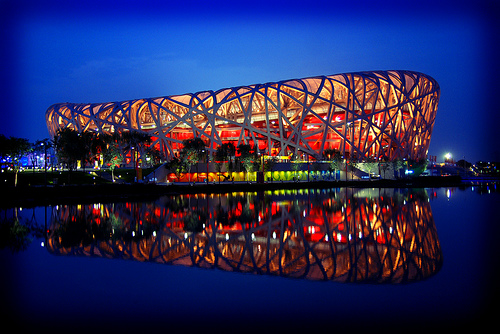 National Stadium also known as the Bird's Nest is a must see when in the Chinese capital. This remarkable stadium was built for the 2008 Olympic Games held in the city. The imaginative Bird's Nest is the creation of three architects, two from Switzerland and one from China. The stadium has been designed in such a way so as to give the feeling that it is a protective nest where hopes of future athletes are moulded and embraced. This was used as the venue for the opening and closing ceremonies, and track and field events in the 2008 Beijing Olympics. Today the Bird's Nest is mainly used to hold world class football games. This is a spectacular sight to see and you will be awed by the admirable capabilities of the people of China.
The Chinese capital is a city where you will find the best and the most variety of Chinese cuisine. There are streets full of carts selling all sorts of street food including rice, noodles and a myriad of meats. You might want to try the Beijing roast duck, a speciality found in restaurants in the city. Most of the hotels offer international cuisine in their restaurants as well.
A Beijing hotel will take care of all your needs and help you to relax in oriental luxury. Close to the Forbidden City hotels can be found to suit your requirements and budget. The Peninsula Beijing is one such option where you can dine in elegant restaurants and relax at a comforting spa.