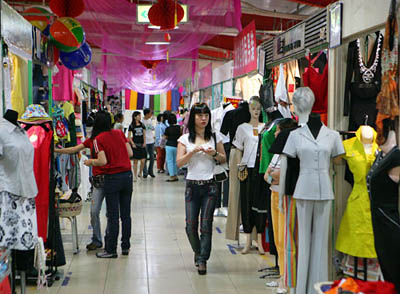 Beijing was once filled with hutongs (narrow streets) and small, single storied buildings. The revamped city now has broad roads and skyscrapers, which make it seem more modern. Historically, Beijing served as one of the Oriental destinations most frequented by foreigners, and little has changed in that regard. Most famous for its ancient landmarks such as the Forbidden City and the Temple of Heaven, the city has also evolved into a highly popular shopping destination.
Tourists can find almost anything they want in Beijing, if they know where to look. When it comes to shopping in this city, Wangfujing Street is probably at the top of everyone's mind. This celebrated commercial district is found north of Changan Avenue at the centre of the metropolis, and has a history dating back 700 years. While less than a kilometre long, the street is packed with department stores and speciality shops and is constantly crowded. Qianmen Street is just south of Tiananmen Square, and while it cannot match the popularity of Wangfujing Street, it is the best place to buy traditional products. Qianmen Street is very popular among souvenir hunters who are looking for something unique and meaningful to take back.
One thing the Orient has remained famous for throughout the ages is silk. Tourists can find this precious material in great supply at the Silk Market. The seven storey building contains everything from silk scarves and shirts to robes and even pyjamas. The prices are generally lower than anywhere else in the city. However, a certain amount of bargaining is required. Tourists will also find other textile products here, along with jewellery and even electronics. Those looking for antiques can try their luck at the Panjiayuan Market and Beijing Curio City.
Beijing's excellent public transport and other utilities make it a terrific spot for a vacation. Even the accommodation found here is very good. Recently more and more tourists opt to stay at serviced apartments in Beijing. There is a range of basic and luxury Serviced apartments Beijing is home to. Those searching for the latter can try the Ascott Raffles City Beijing. Providing high end services and having a delightfully convenient location, it is an ideal place to stay.